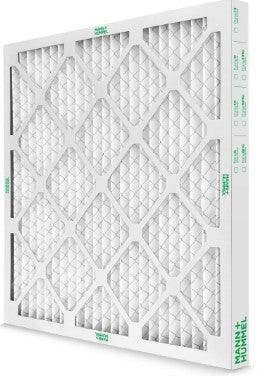 10X20X1 (3-pk)
TRI-PLEAT ULTRA OFFERS A NEW LEVEL OF PERFORMANCE
A new benchmark for pleated air filters - featuring mechanical MERV 9A performance at a very low, energy saving pressure drop - setting the standard for performance.
MECHANICAL MEDIA
Most synthetic medias rely on an electrostatic enhancement to achieve their rated efficiency levels - this enhancement only provides high efficiency for a short period of time before it dissipates. So the performance that you paid for was not delivered. In order to ensure the promised performance is delivered the TRI-PLEAT ULTRA was tested via ASHRAE 52.2 Appendix J. The graph (upper right) shows the results of an ASHRAE 52.2 Appendix J test that dissipates the electrostatic charge - results document a MERV 9A after the electrostatic charge is dissipated. Why is important to you? Because you deserve the efficiency that you are paying from day 1 till the filter is changed out.
CONSTRUCTION
Tri-Pleat Ultra utilizes a moisture resistance die-cut frame with diagonal supports bonded to the media pack for extra strength and to maintain proper pleat spacing. The pleat pack is bonded to a two piece frame. The media is also bonded to a metal grid that maintains pleat shape and adds stability to the media through changes in airflow. In addition the four-inch deep filters also use additional cardboard 'fingers' for additional strength and stability. All Tri-Pleat die cut frames are treated with an Aqua Coat treatment for added moisture resistance.
CAPACITY LEVELS
The TRI-PLEAT ULTRA is offered in two different capacities, the ULTRA ME filters are the High Capacity series manufactured with the maximum amount of media, 15 pleats per foot. The high capacity series offers the lowest resistance, highest dust holding capacity and the longest service life. The ULTRA LE filters are the Standard Capacity series and offer 11 pleats per foot. The standard capacity series offers extended surface area, long service life and high dust holding capacity
Thank you! Your submission has been received!
Oops! Something went wrong while submitting the form
Our goal is to help keep your air clean and furnace filters in tip top condition. When you sign up we will deliver your furnace air filters right to your door step on a reoccurring basis of your choice.